PERSONAL BACKGROUND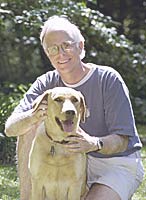 The Important Stuff
OK, let's cover the important stuff first: My lovely bride, Nan, and I have been married for 30+ wonderful years. We live in Atlanta, Georgia, with our crew of four legged critters: a Labrador Retriever (Maggie), a Rottweiler/Bull Mastiff (Zoe), a Siamese cat (Buster), and a tabby cat (Tooter).
Now, a little about me.
I've lived in Atlanta for over 35 years now, but I did bounce around a bit prior to settling here. I was actually born in Paris, France, where my father was completing an assignment for the US Army.
I wasn't in France long. I spent most of my childhood growing up in Ozark Mountain country, about 100 miles south of St. Louis, Missouri. My high school and college years were spent in and near Nashville, Tennessee, and I spent a short time after college in New York City.
Following My Passions
I'm a big believer in listening to your intuition and following your passions. Good things usually happen when you do. For example, during my junior year in college, I took a course in photography just to get a change of pace from all the academic work. I quickly developed a passion for the field. So, after graduation, I headed straight to a highly respected photography school in New York City to explore photography as a career. That's something I wouldn't even have considered had something not told me to take a break from having my head buried in books.
And that decision to continue to follow my passion for photography was crucial to launching a 25-year career and two businesses, both of which had photographic roots. The first business was a small publishing venture that helped teach me the basics of running a business. The second business, a corporate communications company, became one of the most highly awarded firms of its type in the world.
I'm passionate about sports as well, especially tennis, baseball and basketball, and outdoor activities, such as hiking, bicycling and canoeing.

My favorite sport has always been tennis.
I've had a passion for tennis since I picked up my first racket at age 12. For health reasons, I abandoned the sport for about 15 years. But in my late 30s, I was able to take up tennis once more.
I was so thrilled to get out on a court again, I played in every league I could find and developed my game to the point where I eventually achieved a state ranking in my age division in my early 40s.
Losing my health in my 20s and 30s led me to also develop a passion for nutrition and staying fit. Following that passion, I pursued an opportunity to work with a nutrition expert and personal trainer to over 20 Olympic Gold Medal winners. Through that training, I became a certified healthy lifestyle facilitator, and began teaching others about nutrition and exercise and how to optimize your health.
When I discovered the field of personal coaching in 1998, I knew it was a great way to package all of my life experience into a perfect career. So I enrolled and graduated from Coach University's two year Coach Training Program. Now I'm passionate about using all my experience and training to help other highly motivated people create lives they're passionate about living.

PROFESSIONAL BACKGROUND
Here's what I've been up to in my life professionally:

| | |
| --- | --- |
| | I've been a photographer, entrepreneur, writer, editor, publisher, manager, health consultant, business and personal coach. |
| | Started and managed four small businesses. |
| | Built one of those businesses into a world-class corporate communications firm with revenues of $4 million and 35 employees. |
| | Developed that firm's creative reputation to a level where it became the premier company of its type in the Southeast, and one of the most highly awarded communications companies in the world. |
| | Sold that business to a large national firm after 15 years of successful operations. |
| | Followed a personal passion and became a certified healthy lifestyle facilitator, spending over 200 hours studying with a nutrition expert and personal trainer to over 20 Olympic Gold Medal winners. |
| | Graduated from Coach University, the largest and most comprehensive coach training organization in the world, taking over 250 hours of professional coach coursework. |
| | Combined my business, health and coaching background into a business and personal coaching practice for highly motivated people ready for the next level of success. |
| | Attained the Master Certified Coach (MCC) designation, the highest credential awarded in the industry, held by less than 700 coaches worldwide. |
| | Saw a need for and developed a coaching specialty in the area of ADD Coaching For Entrepreneurs, Executives and Professionals. |
| | Earned the Master Certified ADHD Coach Credential. |
| | Have co-authored two books on ADHD and written another based on my experiences coaching business executives with ADHD. |
Professional Organizations I have belonged to include:
The International Coach Federation (ICF)
The Georgia Coach Association
The American Coaching Association
Attention Deficit Disorder Association (ADDA)
ADHD Coaches Organization (ACO)
Institute for Advancement of ADHD Coaching (IAAC)
Professional Association of ADHD Coaches (PAAC) (served as Board Secretary for eight years)
Vistage: A worldwide organization of CEOs and high level executives
Education and Training
BS Degree
Certificate in Commercial Photography
Certified Healthy Lifestyle Facilitator
Coach University Certified Graduate
Earned the Master Certified Coach Credential (MCC)
Earned the Master Certified ADHD Coach Credential (MCAC)