A COACH CAN HELP CREATIVE TYPES REACH THE NEXT LEVEL OF SUCCESS
I spent twenty-five years of my professional life working in a creative capacity with all types of creative individuals. I had a blast doing that, and now I enjoy coaching creative types. Let me explain a little more about my background:
I owned a corporate communications company, better known in the industry as a "production house".

We produced videos, film, print, large multi-projector slide presentations, computer-based media, and even live entertainment.

We employed in-house writers, photographers, art directors, creative directors, and video editors, as well as people with backgrounds in sound, music and animation.
In our industry, we had to produce a proposal, with a detailed creative treatment, for almost every piece of business we landed. We wouldn't have survived for long had we not figured out how to do that well, and I'd like to share some observations about things we learned.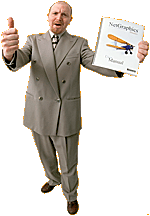 WHAT DO YOU MEAN, WE HAVE TO MAKE A PROFIT?
Given our need to produce creative treatments for proposals, we constantly had "creative meetings" (brainstorming sessions) going on, week in and week out. They were great fun, and produced tons of ideas. The flip side, of course, was that we were in a business, and we needed to be profitable as well as have fun, so there was no way we could explore and produce all those cool ideas. Not to mention that we always had a budget, a deadline, and client needs to take into consideration.

BEING CREATIVE AND PRODUCING RESULTS
So we learned, over and over, three simple lessons:
Focus on one big idea at a time


Stay mindful of budget and deadline constraints.


Execute the idea to completion, to very high standards.
And then, move on to the next project.
Sure, I've oversimplified the creative process. And I'll be the first to admit we didn't always stick to that process. But those lessons remain good guidelines, and if you're a creative type and you're not happy with what you're doing with your creative talents, or you're not making the amount of money you're worth, you might be amazed at what could happen if you applied those ideas.
FREEDOM AND STRUCTURE
Our approach worked well because it combined freedom and structure, two of the things that creative types most need to succeed.
I stick to that simple philosophy when I'm coaching creative individuals. It doesn't matter whether you're an attorney, writer, designer, entrepreneur, or executive, I give you plenty of freedom and space to do your thing, because I know you're talented and capable of doing great things. At the same time, I'll encourage you to find the structure you need to produce profitable results.