FEELING OVERWHELMED BY ALL YOUR RESPONSIBILITIES?
The corporate world is a very complicated place today. The pace of change is frightening. Fewer people are doing far more work, resulting in high levels of stress and feelings of overwhelm. No one has time for all but the most necessary communication. To make matters worse, with downsizing, seasoned mentors are often no longer there to listen, advise and guide.
Enter executive coaching. By supporting senior and junior-level executives to become more effective and productive, executive coaches help under-resourced firms bridge a serious gap.
Through coaching, executives become better producers and decision-makers in all aspects of their lives. This impacts the company's bottom line in a positive way as well as helping those coached to advance their careers and balance their work and personal lives more effectively.
All of which helps us deal better with the complicated world we live in. Executives who are more effective and happier are less likely to be to be thrown off track by whatever turmoil is going on around them. They've learned that despite the fact that we live in a fast-paced world with a mind-boggling level of complexity, once you get past the distractions the fundamental rules for success haven't changed all that much.
Those rules basically say that to succeed, whether as a CEO or key executive, you need to:
Have a passion for, and a clear vision of, where you're going.
Develop an effective strategy to get there.
Take action, stay flexible, and persist until you reach your goal.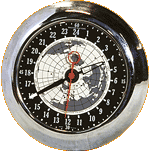 DRIFTING OFF COURSE
Naturally, under stress, all of us will lose our way from time to time, making unwise decisions that throw us off course.
We may spend too much time on what's immediately in front of us, and fall behind on more important things like planning or building relationships. In the process we get overwhelmed and work longer and harder. But where does it stop? Burning the candle at both ends is a great way to burn out altogether. Over-reacting is clearly not the answer.
COURSE-CORRECTING
When an airplane drifts off course, the pilot "course-corrects". Similarly, as your coach, I can help you "course-correct" when you get off track.
Now, you do need to know that I do not come from a classic corporate perspective. While I understand the corporate world, I bring a different type of thinking to your issues, an out-of-the-box, yet pragmatic, cut-to-the-chase perspective that comes from my small business and coaching background. It may be a more grounded approach to work and life than you currently practice. But if you're at your wit's end regarding all the issues you're having to juggle these days, that fresh perspective just might be exactly what you need.

SEVEN WAYS EXECUTIVES USE ME TO ADVANCE THEIR CAREER AND PERSONAL SUCCESS
Better Balance Their Work and Personal Lives, Reducing Overwhelm
Upgrade Management, Communication, and Leadership Skills
Build Structure and Accountability Into Their Lives
Learn How to Work More Smoothly and Effectively With Others
Get To Root Causes of Problems and Make Needed Changes
Get Past Personal Blind Spots And Remove Obstacles To Success
Navigate Through Career Change, Promotions, Or Other Major Transitions
READY TO GET ON TRACK WITH YOUR GOALS?
Click here: To Get Started